Aperçu Salé – A brief introduction to salt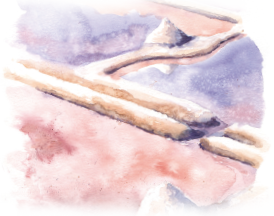 Time : 45 minutes
Price :
Adult : 10.50 €
Child : 4,00 €
Family price : 25,00€
This tour takes you round the salt marshes, where you'll see how the water circuit operates and learn how the famous Guérande salt is formed.
Salt marshes process
Salt crystallization
Outside guided tour
Don't forget to book :
Terre de Sel 02.40.62.08.80

at your tourist office
Terre de Sel offers "Le Guérandais" salt, harvested by the salt workers from the Les Salines de Guérande Cooperative. From producer to consumer, for better service at a better price! You'll find it in different types of packs to suit your needs : small canvas sachets tied with ribbon for gifts, traditional bags for kilo packs of coarse salt or 500g packs of flower of salt, as well as containers of fine and flavoured salt.
Are you looking for salted butter toffee, Breton biscuits, local produce, etc.? Terre de Sel is always on the look-out for Quality of the same level as Le Guérandais salt, and has selected the very best products from the region. In the shop you'll also find ORGANIC products from the region, along with a range from Sites Remarquables du Goût (Espelette pepper…)
To be sure to please everyone, Terre de Sel offers dozens of original gifts, always elegantly presented and at prices to suit every pocket…
Opening hours
Spring: 10:00 AM – 6:00 PM
Summer: 9:30 AM – 7:30 PM
Autumn: 10:00 AM - 5:30 PM
Winter: 10:00 AM / 12:30 AM and 2:00 PM – 5:00 PM
The family price, What is it ?
2 adults and 2 children* or more…
1 adult and 3 children* or more…
* The child has to be less than 16 years old.